Avenue Q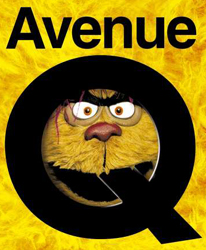 Original cast
Jon Robyns - Princeton/Rod (Principal)
Julie Atherton - Kate Monster/Lucy the Slut (Principal)
Simon Lipkin - Nicky/Trekkie Monster/Bear (Principal)
Clare Foster - Mrs. Thistletwat/Bear/Others (Principal)
Ann Harada - Christmas Eve (Principal)
Naoko Mori - Christmas Eve (Principal)
Jennifer Tanarez - Christmas Eve (Principal)
Sion Lloyd - Brian (Principal)
Giles Terera - Gary Coleman (Principal)

Luke Evans - Ensemble (Ensemble)
Matthew J. Henry - Swing (Ensemble)
Gloria Onitiri - Ensemble (Ensemble)
Jacqui Sanchez - Ensemble (Ensemble)
Gabriel Vick - Swing (Ensemble)
Yanle Zhong - Swing (Ensemble)

Understudies
Princeton/Rod (1st cover) - Gabriel Vick
Princeton/Rod (2nd cover) - Luke Evans
Kate Monster/Lucy the Slut (1st cover) - Clare Foster
Kate Monster/Lucy the Slut (2nd cover) - Gloria Onitiri
Kate Monster/Lucy the Slut (3rd cover) - Jacqui Sanchez
Nicky/Trekkie Monster/Bear (1st cover) - Luke Evans
Nicky/Trekkie Monster/Bear (2nd cover) - Gabriel Vick
Nicky/Trekkie Monster/Bear (3rd cover) - Matthew J. Henry
Mrs. Thistletwat/Bear/Others (1st cover) - Gloria Onitiri
Mrs. Thistletwat/Bear/Others (2nd cover) - Jacqui Sanchez
Christmas Eve (1st cover) - Yanle Zhong
Christmas Eve (2nd cover) - Jacqui Sanchez
Brian (1st cover) - Luke Evans
Brian (2nd cover) - Gabriel Vick
Gary Coleman (1st cover) - Matthew J. Henry
Gary Coleman (2nd cover) - Gloria Onitiri

---
Reviews:
I have seen this show twice and I could go and see it 100 times more! The cast is so talented in all aspects of the performance. The humour can reach every member of the audience in one way or another. A high energy and enjoyable show for teens to older people. Recommended to anyone who wants or needs a good laugh at life! (Written by "Emma Jane (Guest)", 18th Sep 2007)
Went to see this show a few weeks ago and absolutely loved it! It was one of the funniest shows ever, would love to go see it again :) (Written by "Jade (Guest)", 2nd Sep 2008)
At the time of writing Avenue Q is still in its first week of previews, but have no doubt- this show is already the finished article. It's brilliantly original, witty and rude. You really care about the characters (even the ones made out of felt), the songs are excellent and the performances first rate. Special mentions for Julie Atherton (wonderful voice) and the Avenue Cute Jon Robyns (woof!). One of the very best- very highly recommended! (Written by "srd17", 7th Jun 2006)

Add review of Avenue Q:
---
Site Status for Avenue Q:
28th Jul 2010: Final performance in London "for now" will be on 30th October 2010.
17th Feb 2010: New cast started on 1st February. They will move to the Wyndham's theatre on 19th March 2010.
15th Apr 2009: Moves to the Gielgud theatre on 1st June 2009.
29th Dec 2008: Added the complete current cast list, including understudies.
9th Nov 2008: New cast from 1st December. The show will finish in London on 28th March 2009.
5th Oct 2008: Julie Atherton will return to the show on 1st December. Daniel Boys will continue in the show.
26th Jun 2008: Added complete new cast, which started on 2nd June, including understudies.
16th Mar 2008: Replaced Matthew Henry with Paul Hazel.
27th Dec 2007: Added understudies in the current cast.
6th Nov 2007: Added performers in the new cast, starting 3rd December 2007.
10th Jun 2007: Complete cast information from the opening until now, except current cast understudies.