Never Forget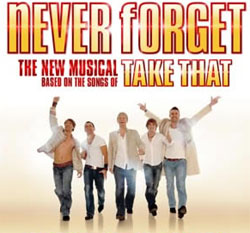 Original cast
Dean Chisnall - Ash Sherwood (Principal)
Craige Els - Jake Turner (Principal)
Tim Driesen - Adrian Banks (Principal)
Eaton James - Dirty Harry (Principal)
Stephane Anelli - Jose Reize (Principal)
Sophia Ragavelas - Chloe Turner (Principal)
Joanne Farrell - Annie Borrowman (Principal)
Teddy Kempner - Ron Freeman (Principal)
Marilyn Cutts - Babs Sherwood (Principal)

Adam C. Booth - Ensemble (Ensemble)
Nikki Davis-Jones - Ensemble (Ensemble)
Ivan De Freitas - Ensemble (Ensemble)
Mike Denman - Ensemble (Ensemble)
Nia Fisher - Ensemble (Ensemble)
David Flynn - Ensemble (Ensemble)
Lynne Jenkinson - Swing (Ensemble)
Scott Maurice - Ensemble (Ensemble)
Nikki Mullins - Swing (Ensemble)
Elliot Nixon - Swing (Ensemble)
Ashley Nottingham - Swing (Ensemble)
David O'Dell - Ensemble (Ensemble)
Amber Rimell - Ensemble (Ensemble)
Natalie Somerville - Ensemble (Ensemble)
Leigh-Ann Stone - Ensemble (Ensemble)
Amy Thornton - Ensemble (Ensemble)
Tamara Wall - Ensemble (Ensemble)
Jamie Hughes Ward - Ensemble (Ensemble)

Understudies
Adrian Banks (2nd cover) - Elliot Nixon
Chloe Turner (Understudy) - Amy Thornton
Annie Borrowman (Understudy) - Amy Thornton

---
Reviews:
It's the best musical in town in my opinion. A fantastic cast and an amazing leading man! (Written by "Celine Allen (Guest)", 28th Sep 2008)

Add review of Never Forget:
---
Site Status for Never Forget:
9th Jul 2008: Never Forget will finish at the Savoy theatre on 15th November 2008, before transferring to another (currently unknown) West End theatre.
7th Feb 2008: Added complete original London cast, starting on 7th May.
23rd Jan 2008: Added a few more performers to the Original London cast, starting 7th May.