Chicago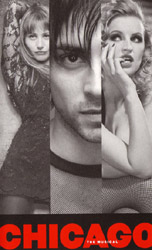 ---
Reviews:

No reviews available

Add review of Chicago:
---
Site Status for Chicago:
20th Aug 2012: Closes on 1st September 2012.
2nd Mar 2012: Updated current cast list.
4th Nov 2011: Opens at the Garrick theatre on 7th November, stars 'Ugly Betty' star America Ferrera.
15th Jul 2011: Updated current cast list. Closes at the Cambridge theatre on 27th August 2011.
28th Apr 2010: New cast started on 26th April.
9th Feb 2010: Updated current cast list.
16th Sep 2009: Linzi Hateley, Pia Douwes and Ian Kelsey are playing Roxie, Velma and Billy until 24th October.
15th Jul 2009: New cast started on 13th July.
9th Nov 2008: Aoife Mulholland has returned as Roxie, Ian Kelsey has returned as Billy Flynn and Brenda Edwards has returned as Mama Morton.
8th Aug 2008: Big ensemble change, new cast started on 4th August.
1st Aug 2008: Kelly Price will play Roxie Hart from 1st September to 25th October. Sarah Soetaert will play the role from 11th to 30th August.
21st Jun 2008: Gina Murray will replace Sue Kelvin as Mama Morton from 14th July.
2nd May 2008: Updated the current cast list with a few new performers.
9th Apr 2008: Suzanne Shaw will play Roxie from 2nd June to 12th July.
6th Mar 2008: Updated the current cast list.
28th Dec 2007: Bonnie Langford, Duncan James and Brenda Edwards re-joined the cast on 10th December.
26th Oct 2007: Many of the leads will change on 5th November, have added these performers.
27th Sep 2007: Added new cast.
10th Sep 2007: Added performers in the current cast.
25th Jul 2007: Complete cast information from January 2006 until now, except understudies.