Ghost the Musical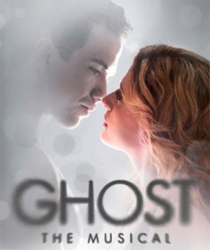 Original cast
Mark Evans - Sam Wheat (Principal)
Richard Fleeshman - Sam Wheat (Principal)
Siobhan Dillon - Molly Jensen (Principal)
Caissie Levy - Molly Jensen (Principal)
Sharon D. Clarke - Oda Mae Brown (Principal)
Andrew Langtree - Carl Bruner (Principal)
Ivan De Freitas - Willie Lopez (Principal)
Adebayo Bolaji - Subway Ghost (Principal)
Mark White - Hospital Ghost (Principal)
Lisa Davina Phillip - Clara (Principal)
Jenny Fitzpatrick - Louise (Principal)

Jaygann Ayeh - Ensemble (Ensemble)
Paul Ayres - Ensemble (Ensemble)
Darren Carnall - Swing (Ensemble)
Samuel Edwards - Ensemble (Ensemble)
Rebecca Giacopazzi - Swing (Ensemble)
Emily Hawgood - Ensemble (Ensemble)
Louise Lawson - Swing (Ensemble)
Rochelle Neil - Swing (Ensemble)
Michael Peters - Swing (Ensemble)
Laura Selwood - Ensemble (Ensemble)
Yemie Sonuga - Ensemble (Ensemble)
Spencer Stafford - Swing (Ensemble)
Phillippa Stefani - Ensemble (Ensemble)
Jez Unwin - Ensemble (Ensemble)
Sally Whitehead - Ensemble (Ensemble)
Mark Willshire - Ensemble (Ensemble)

Understudies
Sam Wheat (1st cover) - Samuel Edwards
Sam Wheat (2nd cover) - Paul Ayres
Sam Wheat (3rd cover) - Mark Willshire
Molly Jensen (1st cover) - Phillippa Stefani
Molly Jensen (2nd cover) - Laura Selwood
Oda Mae Brown (1st cover) - Lisa Davina Phillip
Oda Mae Brown (2nd cover) - Jenny Fitzpatrick
Carl Bruner (1st cover) - Paul Ayres
Carl Bruner (2nd cover) - Mark Willshire
Willie Lopez (1st cover) - Jez Unwin
Willie Lopez (2nd cover) - Spencer Stafford
Subway Ghost (1st cover) - Jaygann Ayeh
Subway Ghost (2nd cover) - Michael Peters
Hospital Ghost (1st cover) - Jez Unwin
Hospital Ghost (2nd cover) - Spencer Stafford
Clara (1st cover) - Yemie Sonuga
Clara (2nd cover) - Rochelle Neil
Louise (1st cover) - Yemie Sonuga
Louise (2nd cover) - Rochelle Neil

---
Reviews:

No reviews available

Add review of Ghost the Musical:
---
Site Status for Ghost the Musical:
20th Aug 2012: Closes on 1st September 2012.
2nd Mar 2012: Added new cast, which started on 20th February.
15th Dec 2011: Siobhan Dillon and Mark Evans will take over the roles of Molly and Sam on 13th January 2012.
26th Nov 2010: The new musical starts previews at the Piccadilly theatre on 22nd June 2011.