Hairspray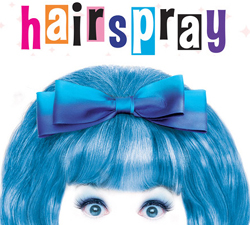 Original cast
Leanne Jones - Tracy Turnblad (Principal)
Michael Ball - Edna Turnblad (Principal)
Mel Smith - Wilbur Turnblad (Principal)
Ian Talbot - Wilbur Turnblad (Principal)
Ben James-Ellis - Link Larkin (Principal)
Elinor Collett - Penny Pingleton (Principal)
Adrian Hansel - Seaweed J. Stubbs (Principal)
Natalie Best - Inez (Principal)
Johnnie Fiori - Motormouth Maybelle (Principal)
Rachael Wooding - Amber von Tussle (Principal)
Tracie Bennett - Velma von Tussle (Principal)
Paul Manuel - Corny Collins (Principal)
Wendy Somerville - Female Authority Figure (Principal)
Dermot Canavan - Male Authority Figure (Principal)
Adam Price - Walking Cover Edna/Wilbur/Male authority figure (Standby)
Charlotte Riby - Walking Cover Tracy (Standby)

Spin ? - Swing (Ensemble)
Yaa ? - Cindy (Dynamite) (Ensemble)
Gavin Alex - Sketch (Ensemble)
Fem Belling - Shelly (Ensemble)
Philip Catchpole - IQ (Ensemble)
Lewis Davies - Gilbert (Ensemble)
Helen Dixon - Swing (Ensemble)
Emma Dodd - Swing (Ensemble)
Tim Frater - Gilbert (Ensemble)
Tim Frater - Swing (Ensemble)
Kate Gillespie - Pearl (Dynamite) (Ensemble)
Ewan Gillies - Swing (Ensemble)
Nicky Griffiths - Lou-Ann (Ensemble)
Jenii Hicks - Brenda (Ensemble)
Holly James - Peaches (Dynamite) (Ensemble)
Sandra Marvin - Lorraine (Ensemble)
Terel Nugent - Duane (Ensemble)
Michael Peters - Thad (Ensemble)
Dominic Shaw - Swing (Ensemble)
Neil Toon - Fender (Ensemble)
Michael Vinsen - Brad (Ensemble)
Zara Warren - Tammy (Ensemble)
Jacqui Zvimba - Swing (Ensemble)

Understudies
Tracy Turnblad (1st cover) - Charlotte Riby
Tracy Turnblad (2nd cover) - Fem Belling
Edna Turnblad (1st cover) - Adam Price
Edna Turnblad (2nd cover) - Dermot Canavan
Wilbur Turnblad (1st cover) - Adam Price
Wilbur Turnblad (2nd cover) - Dermot Canavan
Link Larkin (1st cover) - Neil Toon
Link Larkin (2nd cover) - Philip Catchpole
Link Larkin (3rd cover) - Dominic Shaw
Penny Pingleton (1st cover) - Jenii Hicks
Penny Pingleton (2nd cover) - Zara Warren
Seaweed J. Stubbs (1st cover) - Terel Nugent
Seaweed J. Stubbs (2nd cover) - Spin ?
Seaweed J. Stubbs (2nd cover) - Lewis Davies
Inez (1st cover) - Jacqui Zvimba
Inez (2nd cover) - Yaa ?
Motormouth Maybelle (1st cover) - Sandra Marvin
Motormouth Maybelle (2nd cover) - Yaa ?
Amber von Tussle (1st cover) - Nicky Griffiths
Amber von Tussle (2nd cover) - Jenii Hicks
Velma von Tussle (1st cover) - Wendy Somerville
Velma von Tussle (2nd cover) - Emma Dodd
Corny Collins (1st cover) - Gavin Alex
Corny Collins (2nd cover) - Michael Vinsen
Corny Collins (3rd cover) - Dominic Shaw
Female Authority Figure (1st cover) - Fem Belling
Female Authority Figure (2nd cover) - Emma Dodd
Male Authority Figure (1st cover) - Adam Price
Male Authority Figure (2nd cover) - Gavin Alex
Dynamites (1st cover) - Jacqui Zvimba
Dynamites (2nd cover) - Sandra Marvin
Dynamites (3rd cover) - Terel Nugent

---
Reviews:
The Hairspray UK Tour cast includes Laurie Scarth (Tracy), Michael Ball (Edna), Les Dennis (Wilbur), Laurie Brett (Velma), Clare Halse (Amber), Sandra Marvin (Motormouth Maybelle), Wayne Robinson (Seaweed), Liam Doyle (Link Larkin), Danny Bayne (Corny Collins), Caroline Keiff (Penny), Alexia Khadime (Inez), Martin Ball (Harriman F. Spritzer/Principal/Mr. Pinky/Guard)& Jill Halfpenny (Prudy/Gym Teacher/Matron). The ensemble comprises Ibinabo Jack, Noel Sullivan, Susan McFadden, Alex Gaumond, Amy Lennox, Duncan James, Emma Bateman, Oliver Tompsett, Rachel Muldoon, Andile Gumbi, Paulette Ivory, Gary Forbes, Gloria Onitiri, Sean Parkins, Melissa Hunte. Swings: Andy Mace, Jane McMurtrie, Lucy Miller, Stuart Neal (Written by "Billy (Guest)", 7th Feb 2010)

Add review of Hairspray:
---
Site Status for Hairspray:
8th Jun 2009: Brian Conley, Chloe Hart and Liam Tamne takes over the roles of Edna, Tracy and Link from Michael Ball, Leanne Jones and Ben James-Ellis on 27th July.
31st Jan 2009: Nigel Planer and Verity Rushworth replaces Ian Talbot and Elinor Collett as Wilbur Turnblad and Penny Pingleton on 2nd February 2009.
2nd Oct 2008: Added performers in new cast, starting on 27th October.
16th Jan 2008: Ian Talbot is confirmed to replace Mel Smith in the role of Wilbur Turnblad on 28th January.
26th Oct 2007: Added complete original London cast list, including understudies.
7th Sep 2007: Added complete original cast list.
26th Aug 2007: Added a few more performers who are joining the original cast in October.
26th Jul 2007: Added more performers in the original London cast, starting in October.
23rd Jul 2007: Added 13 performers in the original cast, starting previews on 11th October 2007.