Memphis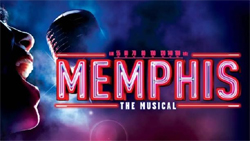 Original cast
Rachel John - Felicia (Principal)
Beverley Knight - Felicia (Principal)
Rachel John - Felicia (Alternate)
Matt Cardle - DJ Huey (Principal)
Killian Donnelly - DJ Huey (Principal)
Tim Newman - DJ Huey (Alternate)
Jon Robyns - DJ Huey (Alternate)
Rolan Bell - Delray (Principal)
Claire Machin - Gladys (Principal)
Jason Pennycooke - Bobby (Principal)
Mark Roper - Mr. Simmons (Principal)
Tyrone Huntley - Gator (Principal)

Keisha Atwell - Ensemble (Ensemble)
Arielle Campbell - Ensemble (Ensemble)
Mark Carroll - Ensemble (Ensemble)
Joseph Davenport - Ensemble (Ensemble)
Momar Diagne - Ensemble (Ensemble)
Carly Mercedes Dyer - Ensemble (Ensemble)
Kimmy Edwards - Ensemble (Ensemble)
Hillary Elk - Ensemble (Ensemble)
Laura Ellis - Ensemble (Ensemble)
Charlotte Gorton - Ensemble (Ensemble)
Yasmin Harrison - Ensemble (Ensemble)
Ben Harrold - Ensemble (Ensemble)
Simon Harvey - Ensemble (Ensemble)
Waylon Jacobs - Ensemble (Ensemble)
Dean Maynard - Ensemble (Ensemble)
Devon McKenzie-Smith - Ensemble (Ensemble)
Tim Newman - Ensemble (Ensemble)
Ashley Rumble - Ensemble (Ensemble)
Kyle Seeley - Ensemble (Ensemble)
Helen Siveter - Ensemble (Ensemble)
Dawnita Smith - Ensemble (Ensemble)
Alex Thomas - Ensemble (Ensemble)

---
Reviews:

No reviews available

Add review of Memphis:
---
Site Status for Memphis:
9th Jul 2015: Matt Cardle took over role of Huey from Killian Donnelly on 6th July. Show closes on 31st October 2015.
27th Nov 2014: Added complete original cast.
29th Mar 2014: Starts previews at the Shaftesbury theatre from 9th October. Starring Beverley Knight.