Rock Of Ages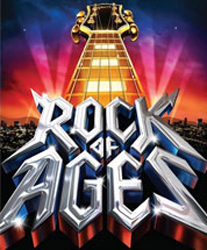 Original cast
Justin Lee Collins - Dennis Dupree (Principal)
Shayne Ward - Stacee Jaxx/Father (Principal)
Oliver Tompsett - Drew (Principal)
Natalie Andreou - Sherrie (Principal)
Amy Pemberton - Sherrie (Principal)
Simon Lipkin - Lonny (Principal)
Rohan Tickell - Hertz (Principal)
Rachel McFarlane - Justice/Mother (Principal)
Jodie Jacobs - Regina/Candi (Principal)
Sandy Moffat - Franz (Principal)

Nathan Amzi - Mayor/Paul Gill (Ensemble)
Natalie Andreou - Ensemble (Ensemble)
Grant Anthony - Ensemble (Ensemble)
Carly Mercedes Dyer - Ensemble (Ensemble)
Cordelia Farnworth - Ensemble (Ensemble)
Ian McIntosh - Ensemble (Ensemble)
Twinnie-Lee Moore - Waitress (Ensemble)
Jamie Muscato - Ensemble (Ensemble)
Andrew Spillett - Ensemble (Ensemble)
Zizi Strallen - Reporter (Ensemble)
Amy Thornton - Young Groupie (Ensemble)
Dylan Turner - Joey Primo/Sleazy (Ensemble)

Related links:
Rock of Ages - Official website
---
Reviews:
do you have understudies for this please (Written by "theatrelad (Guest)", 28th May 2014)

Add review of Rock Of Ages :
---
Site Status for Rock Of Ages :
6th Sep 2013: Closes at the Garrick theatre on 2nd November 2013.
15th Dec 2011: Updated current cast list.
18th Apr 2011: Starts previews at the Shaftesbury theatre from 31st August 2011. Casting is yet to be announced.