Shrek The Musical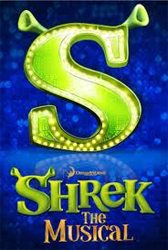 Original cast
Nigel Lindsay - Shrek (Principal)
Amanda Holden - Princess Fiona (Principal)
Kimberley Walsh - Princess Fiona (Principal)
Richard Blackwood - Donkey (Principal)
Nigel Harman - Lord Farquaad (Principal)

Delroy Atkinson - White Rabbit/Bishop (Ensemble)
Amy Beadel - Tweedle Dum/Teen Fiona (Ensemble)
Stephanie Bron - Swing (Snow Queen) (Ensemble)
Dean Chisnall - Papa Ogre/Pig (Bricks)/Thelonius/Knight (Ensemble)
Jon-Scott Clark - Peter Pan/Dragon Puppeteer (Ensemble)
Ste Clough - Guard/Dragon Puppeteer (Ensemble)
Ross Dawes - King Harold/Wolf/Captain of the Guard/Pied Piper/Knight (Ensemble)
Lucie Downer - Baby Bear/Blind Mouse (Ensemble)
Alice Fearn - Sugar Plum Fairy/Gingy (Ensemble)
Michelle Francis - Tweedle Dee/Blind Mouse (Ensemble)
Ashley Hale - Ugly Duckling/Blind Mouse (Ensemble)
Rosanna Hyland - Swing (Little Red Riding Hood) (Ensemble)
Bradley Jaden - Papa Bear (Ensemble)
Aaron Lee Lambert - Pig (Straw)/Knight (Ensemble)
Emma Lindars - Mama Ogre/Mama Bear (Ensemble)
Grant Murphy - Swing (Gnome) (Ensemble)
Spencer O'Brien - Swing (Wooden Soldier) (Ensemble)
Landi Oshinowo - Dragon/Humpty Dumpty (Ensemble)
Damien Poole - Mad Hatter/Dragon Puppeteer (Ensemble)
Stuart Matthew Price - Pig (Sticks)/Walter/Knight (Ensemble)
Jacqui Sanchez - Swing (Golden Goose) (Ensemble)
Jonathan Stewart - Pinocchio/Dragon Puppeteer (Ensemble)
Leigh-Ann Stone - Swing (Fairy) (Ensemble)
Lucy Tapp - Queen Lillian/Wicked Witch (Ensemble)
Karli Vale - Fairy Godmother/Bluebird (Ensemble)
Michael Watson - Swing (Jack and the Beanstalk) (Ensemble)
Lee William-Davis - Swing (Wizard) (Ensemble)

Grace Maltman - Standby Young Shrek (Child role)
Megan Manly - Standby Young Shrek (Child role)
Emily Wheaton - Standby Young Shrek (Child role)
Lara Wollington - Standby Young Shrek (Child role)
Samantha Allison - Young Fiona/Young Shrek/Dwarf (Child role)
Chorlène Biron-Monnier - Young Fiona/Young Shrek/Dwarf (Child role)
Lauren Dawes - Young Fiona/Young Shrek/Dwarf (Child role)
Madeleine Hill - Young Fiona/Young Shrek/Dwarf (Child role)
Emilia Jones - Young Fiona/Young Shrek/Dwarf (Child role)
Zoe Kirk - Young Fiona/Young Shrek/Dwarf (Child role)
Sian Taylor O'Hanlon - Young Fiona/Young Shrek/Dwarf (Child role)
Sophie Wythe - Young Fiona/Young Shrek/Dwarf (Child role)

Understudies
Shrek (1st cover) - Dean Chisnall
Shrek (2nd cover) - Bradley Jaden
Princess Fiona (1st cover) - Alice Fearn
Princess Fiona (2nd cover) - Rosanna Hyland
Princess Fiona (3rd cover) - Lucy Tapp
Donkey (1st cover) - Delroy Atkinson
Donkey (2nd cover) - Aaron Lee Lambert
Lord Farquaad (1st cover) - Ross Dawes
Lord Farquaad (2nd cover) - Ste Clough
Dragon (1st cover) - Emma Lindars
Dragon (2nd cover) - Leigh-Ann Stone
Gingy (1st cover) - Jacqui Sanchez
Gingy (2nd cover) - Leigh-Ann Stone
Pinocchio (1st cover) - Stuart Matthew Price
Pinocchio (2nd cover) - Michael Watson
Teen Fiona (1st cover) - Lucie Downer
Teen Fiona (2nd cover) - Michelle Francis

Related links:
Shrek - Official website
---
Reviews:

No reviews available

Add review of Shrek The Musical:
---
Site Status for Shrek The Musical:
9th Feb 2013: Closes at the Theatre Royal, Drury Lane on 24th February 2013.
24th May 2012: Carley Stenson took over the role of Princess Fiona from Kimberly Walsh on 23rd May.
3rd Mar 2012: Added new cast, which started on 29th February.
15th Dec 2011: Dean Chisnall and Neil McDermott takes over the roles of Shrek and Lord Farquaad on 29th February 2012.
25th Oct 2011: Kimberley Walsh took over the role of Princess Fiona from Amanda Holden on 5th October.
18th Apr 2011: Added complete original cast, which starts previews from 6th May.
7th Sep 2010: Nigel Lindsay will play Shrek and Nigel Harman will play Lord Farquaad.
3rd Aug 2010: Opens in London on 7th June 2011 (previews from May 2011). Amanda Holden will play Princess Fiona and Richard Blackwood will play Donkey.