Spamalot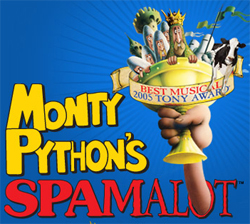 Original cast
Simon Russell Beale - King Arthur (Principal)
Tim Curry - King Arthur (Principal)
Hannah Waddingham - The Lady of the Lake (Principal)
Graham MacDuff - Sir Dennis Galahad/The Black Knight/Prince Herbert's Father (Principal)
Christoper Sieber - Sir Dennis Galahad/The Black Knight/Prince Herbert's Father (Principal)
Tom Goodman-Hill - Sir Lancelot/The French Taunter/Knight of Ni/Tim the Enchanter (Principal)
David Birrell - Patsy/Guard 2/Mayor (Principal)
Robert Hands - Sir Robin/Guard 1/Brother Maynard (Principal)
Darren Southworth - Historian/Not Dead Fred/French Guard/Minstrel/Prince Herbert (Principal)
Tony Timberlake - Sir Bedevere/Dennis's Mother/Concorde (Principal)

Krystal Archer - Ensemble (Ensemble)
Karen Aspinall - Ensemble (Ensemble)
Ben Clare - Swing (Ensemble)
Brendan Cull - Swing (Ensemble)
Ross Dawes - Ensemble (Ensemble)
Stuart Dawes - Ensemble (Ensemble)
Rachel Dempsey - Ensemble (Ensemble)
Craige Els - Ensemble (Ensemble)
Mark Evans - Swing (Ensemble)
Amy Field - Swing (Ensemble)
Rebecca Giacopazzi - Swing (Ensemble)
Emma Green - Ensemble (Ensemble)
Simon Greiff - Ensemble (Ensemble)
Selina Hamilton - Ensemble (Ensemble)
Amber Neale - Ensemble (Ensemble)
Amy Ellen Richardson - Swing (Ensemble)
Andrew Spillett - Ensemble (Ensemble)
Gavin Staplehurst - Ensemble (Ensemble)
Sebastian Sykes - Ensemble (Ensemble)
Luzahnn Taylor - Ensemble (Ensemble)
Nathan Taylor - Ensemble (Ensemble)

Understudies
King Arthur/Sir Lancelot/Sir Galahad (1st cover) - Craige Els
The Lady of the Lake (1st cover) - Amy Field
Sir Robin/Prince Herbert/Patsy (1st cover) - Simon Greiff

---
Reviews:
I saw Spamalot last Tuesday just on the off chance and absolutely loved it. It's so funny and a joy to watch. It parodies so many musicals - it's quite fun to see if you can spot all the references. It's a brilliant show and I'd recommend it to anyone! (Written by "Rose (Guest)", 8th Apr 2007)
Went to see Spamalot last Saturday, absolutely hilarious! Stays true to Python and parodies all current and past musicals. A must see show for all lovers of Python and Musicals! (Written by "richard6161", 13th Oct 2006)

Add review of Spamalot:
---
Site Status for Spamalot:
28th Jun 2008: Updated the new cast, which started on 23rd June. Complete cast with understudies.
3rd Jun 2008: Added the leads in the new cast, starting on 23rd June. Spamalot closes on 3rd January 2009.
4th Feb 2008: Nina Söderquist won the role of Lady of the Lake in the Swedish reality show West End star, and will start on 11th February.
28th Jan 2008: Alan Dale will replace Peter Davidson as King Arthur on 3rd March.
13th Oct 2007: Added understudies in the current cast.
25th Jul 2007: Added ensemble in the new cast.
16th Jul 2007: Added leads in new cast, starting 23rd July 2007.