Zorro the musical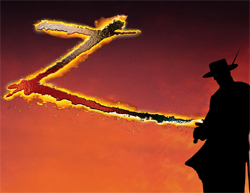 Original cast
Matt Rawle - Zorro/Diego (Principal)
Emma Williams - Luisa (Principal)
Adam Levy - Ramon (Principal)
Lesli Margherita - Inez (Principal)
Nick Cavaliere - Garcia (Principal)
Jonathan Newth - Don Alejandro (Principal)

Alamo ? - El Jurado (Ensemble)
Madalena Alberto - Swing (Ensemble)
Greg Barnett - Private Alvarez (Ensemble)
Paul Basleigh - Private Sanchez (Ensemble)
Dale Branston - Priest (Ensemble)
Isaac de Celia - El Sacromonte (Ensemble)
Richard Costello - Swing (Ensemble)
Daniel Crute - Juggler (Ensemble)
Sonia Dorado - La Gatuna (Ensemble)
Amparo Ferres Fernandez - La Piconera (Ensemble)
Saulo Garrido - Swing (Ensemble)
Sarah Joyce - Señorita on the Balcony (Ensemble)
Vera León - La Somorrostro (Ensemble)
Lucy Lummis - Anabel (Ensemble)
Anna Mateo - La Cantaora (Ensemble)
Oscar Moret - Storyteller (Ensemble)
Jorge Muelas - El Sobri (Ensemble)
Alexander Poulter - Hangman (Ensemble)
Mark Powell - Private Ramirez (Ensemble)
Ramon Ruiz - Joaquin (Ensemble)
Shena Sanders - The Prisoner's Wife (Ensemble)
Nicky Wilson - Swing (Ensemble)

Understudies
Luisa (Understudy) - Sarah Joyce

---
Reviews:

No reviews available

Add review of Zorro the musical:
---
Site Status for Zorro the musical:
6th Mar 2009: Closes on 14th March 2009.
29th Jun 2008: Added the complete original cast, which starts on 30th June.
25th May 2008: Zorro the Musical opens at the Garrick theatre in London on 15th July (previews from 30th June). 6 performers are confirmed in the cast.